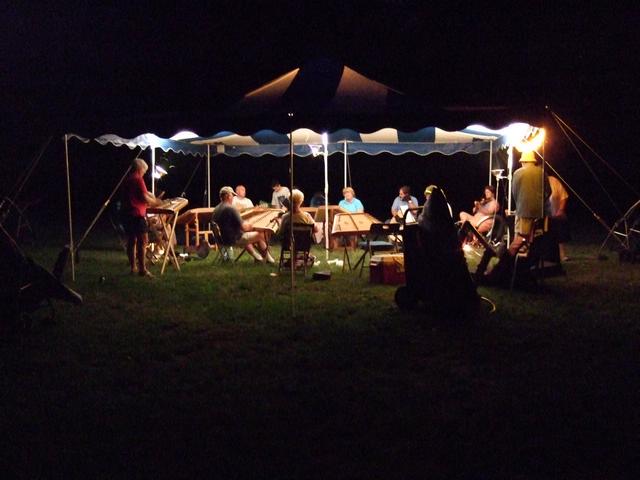 The Non-Electrified Musical UnFest is held at the
Whispering Waters Campground
1805 N. Irving Rd.
Hastings MI
269-945-5166

Email: whisper1805@gmail.com
Whispering waters is just outside Hastings Michigan, about 30 miles north and 20 miles east of Kalamazoo. If you used to attend SMDF when it was at the expo center in Hastings, Whispering Waters is the place just south of the expo center that you may have turned into by mistake.
Maps and stuff
.
Roger and Uta (the owners of the campground) have been wonderful to us each year and we have arranged once again to host a musical jamming weekend. As always, admission to the campground (and the UnFest) is $5 per person / per day and includes tent or (smaller) RV camping (with power) in the common area if you choose to stay overnight. If you have a camper of any sort that won't fit in the common area you will need to call the campground and make a reservation for a regular campsite.

Admission will also include all campground facilities like showers and the pool.... and they have a really cool building with a huge front porch (suitable for jamming) that houses clean and plentiful showers and bathrooms as well as a nice commons area with comfy chairs, a microwave, a TV, a library, and in general a place to get in out of the cold or rain if the weather dumps on us. However, that WON'T HAPPEN, right?

Please note that beginning in 2016, the campground is transitioning to all seasonal rentals. However, the UnFest will remain unchanged UNLESS you have a camping vehicle that requires a regular pullthrough campsite. In that case, you MUST call the campground and make sure they have a regular pullthrough space for you.

NOTE:
We will be jamming in the pavilion across the playground from the office. In addition to that jamming area, we will have what the campground calls the "common area" all to our selves to set up canopies and tents and the like. And if the bugs get too bad, we can jam all night in the basement lounge area of the office building. There will be power available in both areas, and if you're really into roughing it, most regular campsites have phone available! And if that isn't enough, there is a great river that runs through the campground. Check out the link to the campground, above.
PLEASE bring a canopy if you have one. Any kind of canopy, big or small so we can have some alternate jamming areas in the common area where we camp.